Cultivating 'patches' of heath remained a challenge for several generations of descendants to then heath-dweller Jacob Alberts, who when living at Noorderdragten 278 in the Frisian/Dutch municipality of Smallingerland in 1811, officially declared his surname to be Van der Heide.  Along this Noorderdragten route Jacob Alberts was not the only one to opt for the surname Van der Heide; there were four more families to do so, none of them related.  Heath could be found throughout the eastern parts of the province of Friesland, no doubt an influence in surname adoption since over 70 families decided they wanted to be known by that identity.
To carve out a living on the heath is generally not considered to be evidence of great prosperity.  In fact most heath-dwellers may have been squatters on nearby communities' common sheep grazing land (in Dutch 'marke gronden' commonly owned by farmers.)  If a squatter could overnight complete a sod hut and have smoke arise from its 'chimney', he would have secured the right to reside there.  This raised the questions, 'Had Oldeberkoop-born farmer's son Jacob Alberts fallen into poverty', and, 'Was he a squatter?'  The answers are not definite, so likely a mixture of yes and no as documents show that he was a day labourer but one who resided on heath owned by his father-in-law Lieuwe Fokes, a peat fuel bargeman and merchant.
These circumstances, ironically, made Jacob Alberts van der Heide, living and working at his in-laws owned peatbogs, where he would have dug up heath-covered bogs to be sold as heating fuel, by necessity a combatant of heath.  Some years later, his younger son Meine van der Heide worked the soil at an Ommerschans, Overijssel institutional farm, soil that had been heath until a few years before he settled on it.  It seems, that the Van der Heide generations were never far from former heaths.  Records show that grandson Jacobus van der Heide, whose wife Jantien was born on a peat fuel barge (in Dutch a 'turfschip'), also farmed on former heath-covered bog land in distant Lutten.  Also the next generation, greatgrandson Antonie A. van der Heide farmed on former heath fields near Rheezerveen and Heemse, Hardenberg.  In fact, in A.A.'s working years, he actually turned two separate heath-covered properties into productive farms.  Three of Jacob Alberts' greatgrandsons, A.A.'s sons Hilbert, Jacobus and Meine turned near Ommen separately in the late 1930s, in an estimated total, more heath acreage into productive land than all the previous generations here named combined.  Much of that former heath spread remains in the family and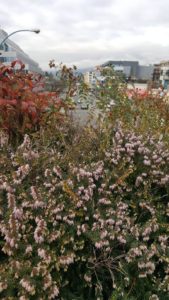 belongs now to an estate or in Dutch 'landgoed' known as Den Woesten Heide, home to a flourishing tree farm, to lush pasture, and annual crops such as potatoes, grain and grass seed.
Much has changed in the country between the years 1811 and 2011.  Most former heath covered bogs, moors and marginal sandy regions by far have become significant contributors to a vast Dutch agricultural output.  It is great that some of Jacob Alberts van der Heide's descendants have a share in that national success story but it is also very appropriate that the heide / heather / heath / Erica 'roots' are kept alive, after all we hail from 'Den Woesten Heide.'
Photo: Heather with hundreds of tiny bell blossoms in full bloom at a walkway overpass location, a continent away in North Vancouver, BC, Canada, taken January 2017.
P.S.  Descendants of Jacob Albert van der Heide have spread far and wide.  Son Albert lived out his days in Makkinga, Friesland. Son Lieuwe raised his family in nearby Groningen.  Son Roelof's branch settled in its entirety in Michigan, as did two of Meine's children but most remained in NE Overijssel.  Today's generations can also be found in Canada and Australia.
Continue reading